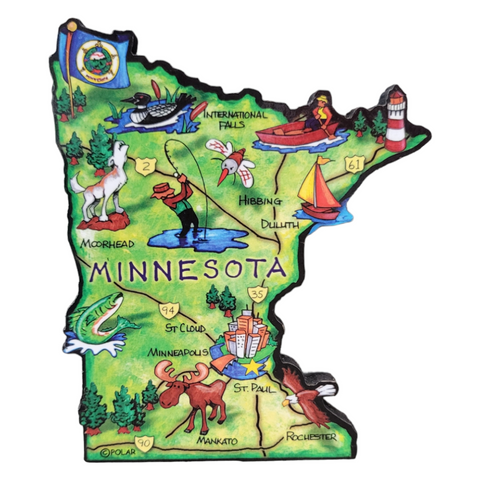 Magnet: MN Artwood Map
Embrace the Essence of Minnesota with Our Exquisite MN Artwood Map Magnet
Adorn your refrigerator or any magnetic surface with our captivating MN Artwood Map Magnet, a handcrafted masterpiece that captures the essence of the Land of 10,000 Lakes. This intricate wooden magnet features a beautifully detailed map of Minnesota, showcasing its iconic landmarks, cities, and natural wonders. The rich hues of the artwood and the intricate laser-cut details bring Minnesota's diverse landscapes to life, making this magnet a cherished reminder of the state's beauty and charm.
A Tribute to Minnesota's Pride and Heritage
Our MN Artwood Map Magnet is a tribute to the pride and heritage of Minnesota, a state renowned for its breathtaking natural beauty, vibrant culture, and warm hospitality. The meticulously crafted map highlights the state's iconic landmarks, from the majestic Boundary Waters Canoe Area Wilderness to the bustling Twin Cities of Minneapolis and St. Paul. Each laser-cut detail, from the winding rivers and lakes to the towering pines and rolling hills, captures the essence of Minnesota's diverse landscapes.
Handcrafted with Precision and Care
Each MN Artwood Map Magnet is meticulously handcrafted by skilled artisans, ensuring its exceptional quality and durability. The durable MDF wood is carefully laser-cut to create an intricate and detailed map, while the vibrant colors are applied with precision to enhance the magnet's visual appeal. The smooth, polished finish and secure magnetic backing ensure that this magnet will grace your refrigerator or magnetic surface for years to come.
A Touch of Minnesota Charm for Your Home
Whether you're a proud Minnesotan or simply someone who appreciates the state's natural beauty, our MN Artwood Map Magnet is a charming addition to any home. Its rustic appeal complements a variety of décor styles, from cozy farmhouse to modern Scandinavian to rustic cabin chic. The magnet's intricate details and vibrant colors will add a touch of Minnesota pride and charm to your space, reminding you of the state's unique character and natural splendor.
A Thoughtful Gift for Any Occasion
The MN Artwood Map Magnet is a thoughtful and unique gift for anyone who loves Minnesota or has special memories of the state. It's a perfect present for housewarmings, birthdays, holidays, or simply as a token of appreciation for a friend or family member who cherishes Minnesota's beauty and heritage.
A Treasured Keepsake to Cherish
More than just a magnet, this piece is a treasured keepsake that captures the essence of Minnesota's spirit and natural beauty. As you see it day after day, it will evoke memories of exploring the state's vast landscapes, enjoying its vibrant culture, and experiencing the warm hospitality of its people.
Product Details:
Material:

 Handcrafted MDF wood with laser-cut details

Dimensions:

 Approximately 3 inches tall and 4 inches wide

Vibrant colors and intricate map design

A tribute to Minnesota's pride and heritage

A thoughtful gift for any occasion