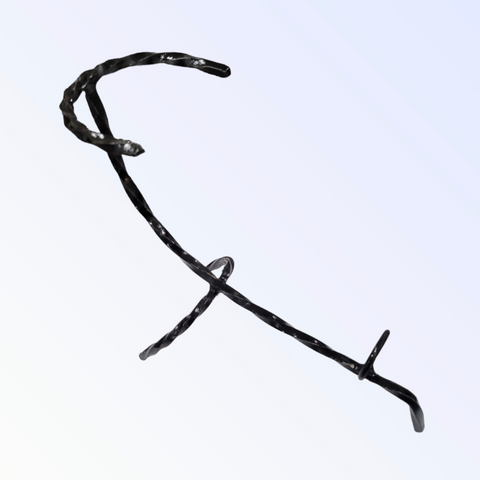 Drink-ware: Horn Stand
Elevate your Viking horn to a position of honor with our handcrafted metal wire stand, designed to securely cradle and display your prized drinking vessel. This stand, meticulously crafted from sturdy metal wire, exudes rustic charm and enhances the presentation of your Viking horn, transforming it into a centerpiece of your décor.
A Tribute to Viking Traditions
The Viking horn, a symbol of strength, camaraderie, and the spirit of celebration, is an integral part of Viking traditions. Our metal wire stand pays homage to this rich heritage, providing a place of honor for your horn while adding a touch of Nordic charm to your space.
Handcrafted with Precision
Each metal wire stand is meticulously crafted from high-quality metal wire, ensuring its durability and long-lasting beauty. The skilled craftsmanship is evident in the smooth, polished finish and the intricate details of the design. The stand's sturdy construction ensures that it will safely hold your Viking horn, even when filled with your favorite beverage.
A Rustic Touch for Your Home
The metal wire stand's rustic charm complements a variety of décor styles, from rustic farmhouse to modern Scandinavian to medieval-inspired settings. Its natural metal finish adds a touch of warmth and authenticity to any space, while its unique design evokes the spirit of Viking feasts and gatherings.
A Treasured Companion for Your Viking Horn
More than just a functional accessory, our metal wire stand is a treasured companion for your Viking drinking horn. It elevates the horn's presence, transforming it from a mere drinking vessel into a symbol of Viking heritage and a conversation starter in your home.
Product Details:
Material:

 

Handcrafted metal wire

Dimensions:

 

Designed to fit most standard-sized Viking horns

Sturdy construction for secure horn placement

Rustic charm and intricate details

A tribute to Viking traditions