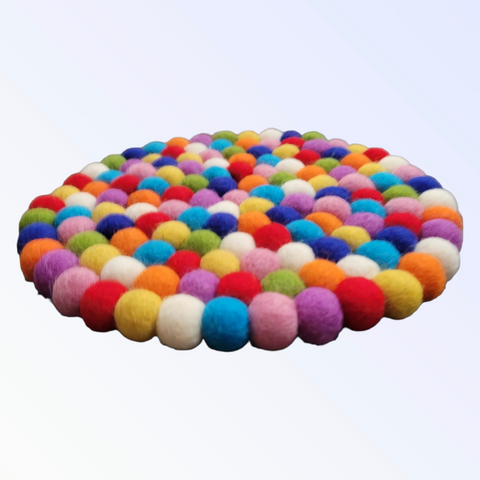 Trivet: Round Pom-Pom Multi-Color
Introducing our Round Pom-Pom Multi-Color Trivet – the perfect blend of functionality and style to elevate your kitchen and dining experience! Crafted with care and creativity, this trivet is designed to not only protect your surfaces but also add a vibrant touch of color and warmth to your home.
Size: 8.5" Diameter Felted Colorful Ball Mix 100% wool and Handmade. BEST SELLER
Care: Gentle hand wash in cold water, air dry only
Key Features:
Unique Design: The Round Pom-Pom Multi-Color Trivet features a charming, eye-catching design. Its playful pom-pom accents in a variety of colors create an inviting and cozy atmosphere in any kitchen.

Versatile Usage: This trivet is the perfect companion for hot pots, pans, and dishes fresh out of the oven. Place it on your dining table, kitchen countertop, or island to safeguard your surfaces from heat damage.

High-Quality Materials: Crafted from heat-resistant, durable materials, this trivet is designed to withstand high temperatures and provide long-lasting protection for your surfaces. Its premium construction ensures that it remains a staple in your kitchen for years to come.

Easy to Clean: The Round Pom-Pom Multi-Color Trivet is effortless to maintain. Simply wipe it clean with a damp cloth or sponge to remove any spills or stains. It's designed to keep its colorful charm through many uses.

Multifunctional: Beyond its primary role as a trivet, this round beauty can also be used as a decorative centerpiece for your table or hung on the wall as a unique piece of kitchen decor when not in use.

Thoughtful Gift: Looking for a thoughtful and practical gift? This trivet is an excellent choice for housewarmings, birthdays, weddings, or any occasion. It combines style and function, making it a memorable and useful present.