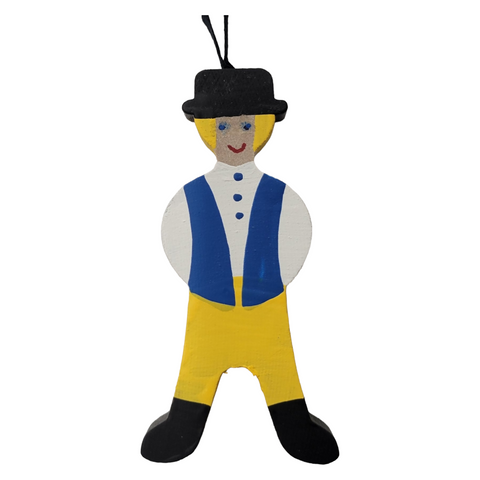 Ornament: National Costume Swedish Boy
Deck the halls with cultural vibrancy and cherish the rich traditions of your heritage with our captivating National Costume Boy ornament. This exquisite ornament features a hand-painted figurine of a young boy adorned in traditional national attire, embodying the spirit of cultural pride and unity.
A Touch of Cultural Elegance
Crafted from high-quality resin and hand-painted with vibrant colors, our National Costume Boy ornament is a true testament to artisanal craftsmanship. The boy's attire, the features of his face, and the proud stance he holds capture the essence of cultural heritage and inspire a sense of belonging.
A Celebration of Diversity and Tradition
Our National Costume Boy ornament is more than just a decorative piece; it's a symbol of the rich tapestry of cultures that make our world so beautiful and diverse. It's a reminder to embrace our heritage, honor our traditions, and celebrate the unique identities that shape our communities.
Hang this ornament on your Christmas tree, display it on a shelf or mantelpiece, or add it to a festive ornament collection to bring a touch of cultural elegance to your holiday décor. It's also a thoughtful and meaningful gift for loved ones who cherish their heritage and appreciate the beauty of diverse cultures.
Product Features:
Hand-painted resin ornament

Depicts a young boy in traditional national attire

Celebrates cultural diversity and heritage

Perfect for Christmas trees,

 shelves,

 mantelpieces,

 or ornament collections