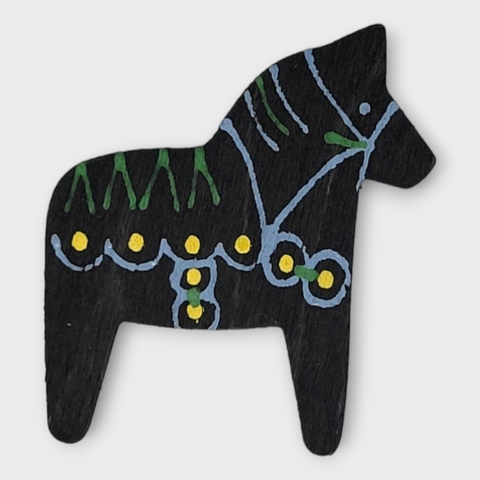 Magnet: Dalahorse Black
Add a Touch of Scandinavian Charm to Your Home with Our Elegant Dalahorse Black Magnet
Bring the timeless beauty of Scandinavian design to your refrigerator or any magnetic surface with our sophisticated Dalahorse Black Magnet. This handcrafted masterpiece features a sleek black Dalahorse silhouette, a traditional Swedish symbol of strength, luck, and good fortune. The minimalist design and rich ebony hue add a touch of elegance and sophistication to any space, instantly transforming your refrigerator into a work of art.
A Tribute to Swedish Heritage and Craftsmanship
The Dalahorse, also known as the Dalecarlian horse, is a beloved symbol of Sweden, dating back to the 17th century. These hand-painted wooden horses were originally crafted by farmers during the harsh winter months and have since become an iconic representation of Swedish culture and craftsmanship. Our Dalahorse Black Magnet pays homage to this rich heritage, bringing the essence of Swedish design into your home.
A Touch of Minimalist Elegance
Our Dalahorse Black Magnet embodies the principles of Scandinavian minimalism, emphasizing clean lines, uncluttered design, and the use of natural materials. The sleek black silhouette of the Dalahorse contrasts beautifully with the vibrant colors of your refrigerator or any other magnetic surface, adding a touch of understated elegance without overpowering your décor.
A Versatile Addition to Any Home
Whether gracing your refrigerator in the kitchen, adding a touch of charm to your office locker, or adorning a magnetic whiteboard in your classroom, our Dalahorse Black Magnet is a versatile addition to any home. Its sophisticated design complements a variety of décor styles, from minimalist Scandinavian to rustic farmhouse to contemporary modern.
A Thoughtful Gift for Any Occasion
For anyone who appreciates Scandinavian design, Swedish heritage, or simply enjoys unique and elegant home décor, our Dalahorse Black Magnet is a thoughtful and memorable gift. It's perfect for housewarmings, birthdays, holidays, or simply as a token of appreciation for a friend or family member who loves the beauty of minimalism and Scandinavian style.
Product Details:
Material:

 High-quality wood with a smooth,

 black finish

Dimensions:

 Approximately 3 inches tall and 2.

5 inches wide

Handcrafted design featuring a Dalahorse silhouette

A tribute to Swedish heritage and craftsmanship

Versatile addition to any home