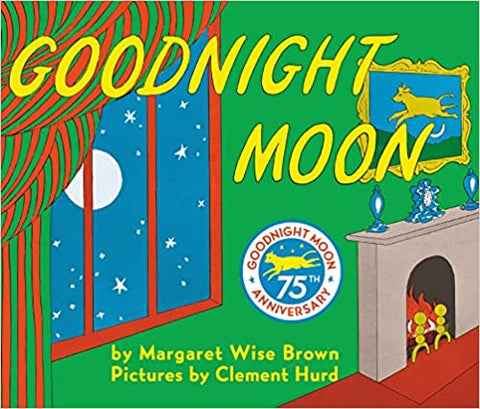 Book: Goodnight Moon
A Timeless Bedtime Classic
By Margaret Wise Brown and Clement Hurd
Board Book, Picture Book, 32 pages
Goodnight Moon is a classic children's book that generations of readers have loved. The quiet poetry of the words and the gentle, lulling illustrations combine to make a perfect book for the end of the day.
In the story, a little bunny says goodnight to all of the familiar things in his room, one by one. From the great green room and the picture of the three little bears to the clocks and his socks, the little bunny bids each object a fond farewell.
Goodnight Moon is a soothing and reassuring book that helps children wind down and prepare for sleep. It is also a great way to introduce young children to the concept of object permanence and to help them learn the names of different objects in their environment.
Goodnight Moon is a must-have for every bookshelf and is the perfect gift for baby showers, toddler birthday parties, and holidays.
Publisher ‏ : ‎ HarperCollins; Revised ed. edition (January 23, 2007)
Language ‏ : ‎ English
Hardcover ‏ : ‎ 32 pages
ISBN-10 ‏ : ‎ 0060775858
ISBN-13 ‏ : ‎ 978-0060775858
Reading age ‏ : ‎ Baby - 3 years, from customers
Lexile measure ‏ : ‎ AD360L
Grade level ‏ : ‎ Preschool - 3
Item Weight ‏ : ‎ 13.8 ounces
Dimensions ‏ : ‎ 10.2 x 0.4 x 8.6 inches