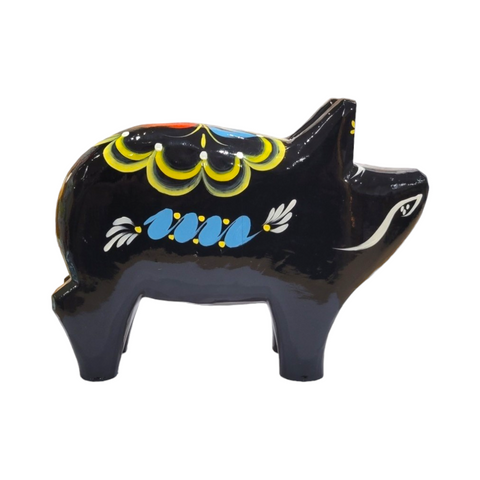 Dala Pig: Black
Black Dala Pigs
Swedish Traditional Handcraft
Dala pigs are hand carved & painted wooden pigs imported from the Dalecarlian region of Sweden. 
Every Dala pig is carved by hand out of pine wood that is grown in Sweden. They are then given a base paint color, usually red, blue, black or white. Then an artist carefully brushes the floral patterns, called kurbits, onto the horse in various colors and patterns. Every Dala pig is unique in its own way since they are traditionally carved and painted.

* Sizes: All Dalas are measured from the bottom of the foot to the highest point of the head in centimeters. Sizes are approximate.

~ Ordering a Dala Online? Please note that every Dala is unique. When ordering online the base color will be the same but the kurbits will vary in colors and patterns.